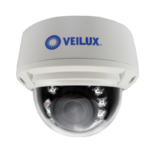 VEILUX VVIP-2V Vandal Proof IR NETWORK DOME
VEILUX AND ITS IP SECURITY SOLUTIONS FOR SCHOOLS AND THEIR CAMPUSES Our schools, their campuses and even the administrative buildings that make up the backbone of our educational system should be a place of safety for our students, teachers and administrators to study and work. Veilux believes that a quality, cutting edge video surveillance system is one of the cornerstones of a safer learning environment. WHY IP VIDEO SURVEILLANCE? Veilux's new IP Video Surveillance Technology is an exciting opportunity for schools, their campuses and most importantly, the faculty and the students to feel safer.
Why IP over the traditional Analog? Let's take a look at the advantages that IP has:
These are a few of the main reasons that an IP System is the next logical step for schools and campuses, and most importantly for the people who are working and learning there. To learn more about how Veilux can help update your school's security system call Adam at (800) 510-6528.