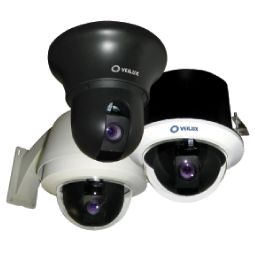 There are 2 primary purposes for video surveillance in a retail environment:
To aid in loss prevention

To gauge the performance of employees
Loss prevention is of primary importance to retailers – the retail industry as a whole experiences $30 billion dollars in theft-related losses each year! Of course, up until recently retail CCTV systems have been primarily Analog Systems. Analog systems allow the user to capture images with remote viewing capability, but they have little in the way of additional features or benefits. One exception to this is a PTZ camera, which allows the user to pan 360 degrees, to tilt the camera up and down, and to zoom in on an object or person. Veilux is one of the industry leaders in PTZ technology and offers a variety of PTZ options, including an auto-tracking PTZ which senses movement of an object and moves the camera to follow the object or person. Veilux has installed over 50 locations of McDonalds restaurants with an Analog surveillance solution. Now Veilux IP technology, which is network based, has given retailers the opportunity to be more successful with their loss prevention programs.
Here are some of the ways that an IP or Network system can benefit a loss prevention program:
These are but a few of the improved benefits that an IP/Network Retail Surveillance solution can bring to a loss prevention program. To find out more about a well designed Veilux IP solution, call Adam at Veilux (800) 510-6528.